Covid-19 Best Practices
Together we can all do our part to have fun and stay safe!
Please walk the lighthouse loop counter-clockwise. Encouraging one way trail use will decrease cross traffic. Please PASS by stepping into VIEWPOINTS, do not block traffic flow. Alert users with kindness from a distance to agree where passing is safe (2 metres apart). Also avoid stepping on sensitive plants, find a gravel pullout. Keep dogs close to you on their leash. Joggers please jog in place until it is safe to pass. If the parking lot is full, come back later. Please keep 2 metres apart (the wing span of a bald eagle). If someone else is invading this space turn you back.
Please also avoid touching signs, wash hands after your walk.
As restrictions to travel inside BC begin to ease, we must work together to balance community safety with welcoming visitors. We want the summer to be enjoyable for everyone, respecting the health guidelines by the province as well as physical distancing while enjoying our trails and facilities.
Nature is an incredible healer, so for our mental and physical health please respect our guidelines. If we can not keep this distance, the trail will face closure. Enjoy a virtual visit with our video series, our most recent episode is below.
What is our planet's largest organism?
Tree-S-I : Murder by Mushroom
Join us for our "Learn Where You Live" Episode 6 with our Wild Pacific Trail Naturalist!

There's been a murder in the forest! Who! What? Why!
Follow along as Wild Pacific Trail naturalist Tanya gets to the root by investigating clues and searching for suspects in the woods…
will she discover whodunit in this in-tree-guing case?!

Video by Arya Touserkani @tousquared www.waterlogue.ca
Thank you for allowing audiences to explore up close and personal interactions through your majestic macro shots,
uncovering the secrets of flora and fauna along the Wild Pacific Trail. @tousquared www.waterlogue.ca
Special thanks to the inspirational Gisele Martin of the Tla-o-qui-aht First Nation
for sharing her timeless knowledge of Nuu-chah-nulth language and culture.
And so Mush-thanks to Andy MacKinnon, forest ecologist extraordinaire,
for sharing his vast scope of marvelous mushroom knowledge and delightful humour.
Stop motion animation success by Local Ucluelet youth, Riley Gerbrandt.
Thank you for sharing your fun illustrations of the ways trees can communicate and share nutrients!
Special thanks to the Clayoquot BIosphere Trust for funding contributions.
Welcome to the Wild Pacific Trail!
20th Anniversary video: " Inspiring through Nature"
Interpretive walks are cancled due to Covid-19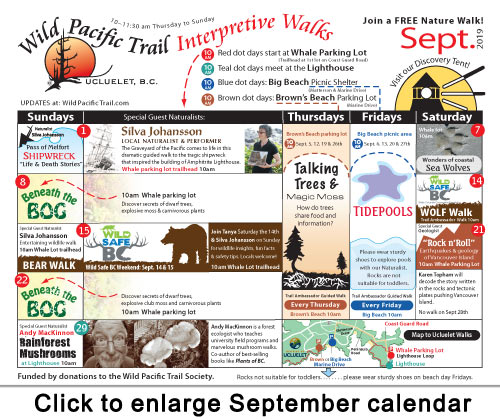 Please donate to help keep our staff employed until events can return.
Thank you for your support! Contributions via CanadaHelps or mailed to Box 572, Ucluelet will receive a charitable receipt.
Click here to learn more about donations to the non-profit trail society.