"A walk on the WIld Pacific Trail is a meditation with Nature."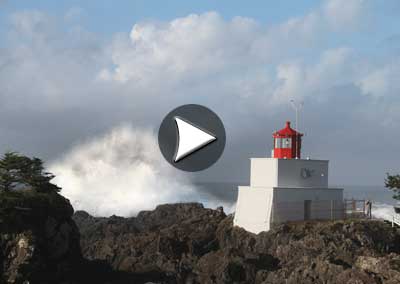 Storm watching season!
Seasonal storms have been putting on a show, so bring a rain slicker or visit on a calm day after the storm to experience the frothy roar of massive waves.
Rocks are scoured clean by waves more powerful and fast than any human, so stay on the trail at all times.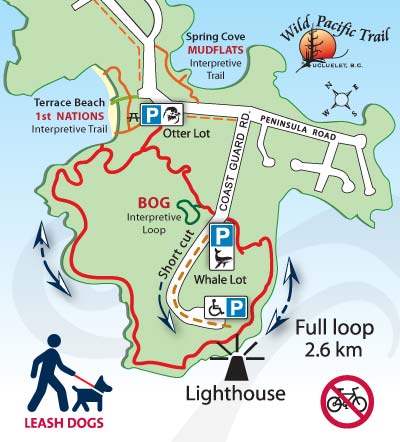 MAP to lighthouse loop -- click for a printable file.
Programs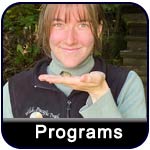 Interpretive programs will return next spring. Special events will be posted online.
All events are sponsored by the trail society and supported by donations. A library of videos are available to LEARN MORE >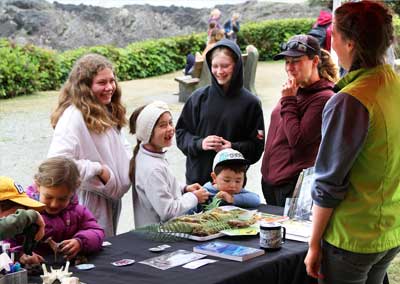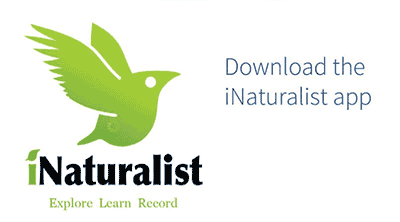 Download this app to join our "Inspiring through Nature" series. You can still contribute to our previous Bio Blitz survey as well.
Interpretive signs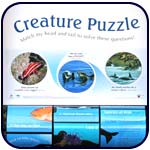 Please read our extensive interpretive signs as you walk the trail to appreciate the hiden wonders of nature. Children will especially enjoy interactive signs at Big Beach park.
Did you know, now you can see a live web cam of the lighthouse at ukeelivecams.com.

Follow us on facebook to stay current.
Inspiring through Nature
Stay safe on the trail, waves are powerful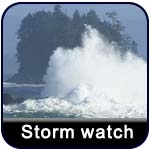 Fall and winter is a special time to enjoy this rugged coastline during powerful Pacific storms. Waves are very unpredictable, so do not walk off the trail even if the weather seems calm. The path is built as close as possible to the surf and viewpoints can bring you into the spray of larger waves. If the wind is gale force some trails and beaches may be closed. READ MORE>
Nature's voice is strong in this place if we listen. Whether you walk here every day or for the first time, observe the cascade of ecosystems as the trail showcases coastal forests, bogs, mudflats and the creatures that thrive here if we give them space. Please leave no trace of your visit and stay on the trail to protect the forest. Trails extend 8 kilometres along the coast plus side loops. Give yourself time to sit on a bench to watch birds and wildlife.
Interpretive signs enrich your experience and share fun facts in focus ares: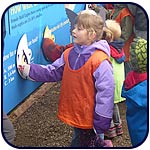 Enjoy our social media and award winning video series from afar or follow us on Facebook and Instagram to learn more.
Click here for a trail USER GUIDE.
Award winning video: "Force of Nature" will sweep you off your feet.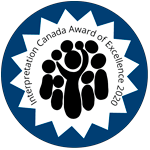 Explore the unique WEATHER that comes with living on the coast, how species not only manage to survive, but THRIVE!
Fun fact: Can you name an amphibian that has no lungs?
We are proud to acknowledge the talents of our past naturalist Tanya Nestoruk for her work with videographer Arya Touserkani www.waterlogue.ca in achieving an award of excellence from Interpretation Canada for this video. Special thanks to Vi Mundy of Yuułuʔiłʔatḥ First Nation and Dr. Barb Beasley with the Association of Wetland Stewards for Clayoquot and Barkley Sound for their expert advice on content. Project funding from Clayoquot Biosphere Trust is also appreciated. Play full screen to enjoy fully.
Welcome to the Wild Pacific Trail!
20th Anniversary video: " Inspiring through Nature"
This video is a wonderful overview of your goals and 20-year+ success story. The journey continues!
Thank you for your support! Contributions via CanadaHelps or mailed to Box 572, Ucluelet will receive a charitable receipt.
Click here to learn more about donations to the non-profit trail society.