Can you name an amphibian that has no lungs?
Episode 4: Force of Nature
Join us during this travel lock down for an interactive "Learn Where You Live" web series with our Wild Pacific Trail Naturalist!

Explore the unique WEATHER that comes with living on the coast, how species not only manage to survive, but THRIVE!
Special thanks to Vi Mundy of Yuułuʔiłʔatḥ First Nation and Dr. Barb Beasley with the Association of Wetland Stewards for Clayoquot and Barkley Sounds
From secrets of carnivorous plants to flammable mosses--you will enjoy this EXPLOSIVE video series!

CLICK HERE for more fun videos and activities. Programs are funded by donations, please help us inspire through nature.
Videos are created by Arya Touserkani @tousquared www.waterlogue.ca -- thanks for your support!

Trail use guidelines
The trail remains open for west coast residents if you can keep 2 metre physical spacing.
Please walk the lighthouse loop one way to decrease cross traffic. Please PASS by stepping into VIEWPOINTS, do not block traffic. Alert users with kindness from a distance to agree where passing is safe. Also avoid stepping on sensitive plants, find a gravel pullout. Keep dogs close to you on their leash. If the parking lot is busy, come back later.
Please also avoid touching signs, wash hands when returning home. Outhouses have been closed to prevent contamination.
Nature is an incredible healer, so for our mental and physical health please keep 2 metres apart (the wing span of a bald eagle).
If we can not keep this distance, the trail will face closure.
FOR YOUR SAFETY: Visitors are encouraged to stay home during this crisis.
20th Anniversary video: " Inspiring through Nature"
Join us for a free interpretive walk when programs resume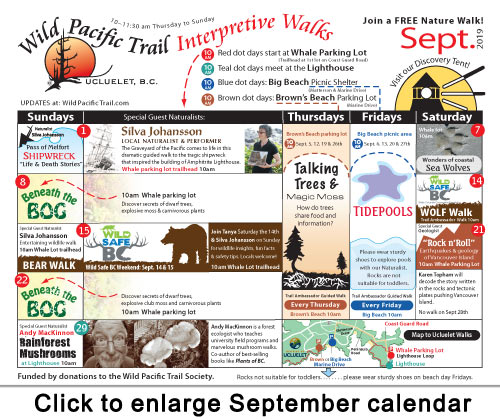 Please donate to help keep our staff employed until events can return.
Thank you for your support! Contributions via CanadaHelps or mailed to Box 572, Ucluelet will receive a charitable receipt.
Click here to learn more about donations to the non-profit trail society.