Covid-19 Best Practices
Together we can all do our part to have fun and stay safe!
Please walk the lighthouse loop counter-clockwise. Encouraging one way trail use will decrease cross traffic. Please PASS by stepping into VIEWPOINTS, do not block traffic flow. Alert users with kindness from a distance to agree where passing is safe (2 metres apart). Also avoid stepping on sensitive plants, find a gravel pullout. Keep dogs close to you on their leash. Joggers please jog in place until it is safe to pass. If the parking lot is full, come back later. Please keep 2 metres apart (the wing span of a bald eagle). If someone else is invading this space turn you back.
Please also avoid touching signs, wash hands after your walk.
As restrictions to travel inside BC begin to ease, we must work together to balance community safety with welcoming visitors. We want the summer to be enjoyable for everyone, respecting the health guidelines by the province as well as physical distancing while enjoying our trails and facilities.
Nature is an incredible healer, so for our mental and physical health please respect our guidelines. If we can not keep this distance, the trail will face closure. Enjoy a virtual visit with our video series, our most recent episode is below.
Can you tell the difference between a raven and a crow?
Episode 5: Remarkable Ravens
Join us for an interactive "Learn Where You Live" web series with our Wild Pacific Trail Naturalist!

Raven's are not only role models of communication, fair trade, and savvy intelligence, they play an essential role as ecosystem recyclers.
We have a lot to learn from nature, we just have to listen!
Thank you to Parks Canada for support for this project. Special thank you for footage and raven sound clips copyright by Ian Cruickshank
Note: footage was taken with a telephoto lens to avoid disturbing wildlife. Also thanks to the Clayoquot BIosphere Trust for funding.
Video by Arya Touserkani @tousquared www.waterlogue.ca

Raven vs Crow Image by Rosemary Mosco and Dr. Kaeli Swift with BirdandMoon.com @corvidresearch
Special thanks to Vi Mundy of Yuułuʔiłʔatḥ First Nation for Nuu-chah-nulth translations.
Additional footage courtesy of: https://www.youtube.com/watch?v=pHHHAfzAuKc
https://www.youtube.com/watch?v=gEksZdWKqtA – https://www.youtube.com/watch?v=U6K9LbRX15Y
https://www.youtube.com/watch?v=nJdj-2XvGF4 – https://www.youtube.com/watch?v=g6vzGrWP9lc
Welcome to the Wild Pacific Trail!
20th Anniversary video: " Inspiring through Nature"
Join us for a free interpretive walk when programs resume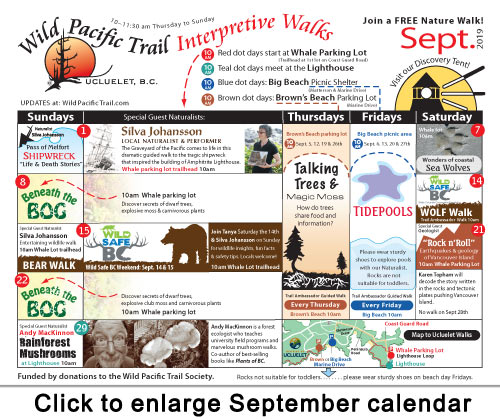 Please donate to help keep our staff employed until events can return.
Thank you for your support! Contributions via CanadaHelps or mailed to Box 572, Ucluelet will receive a charitable receipt.
Click here to learn more about donations to the non-profit trail society.