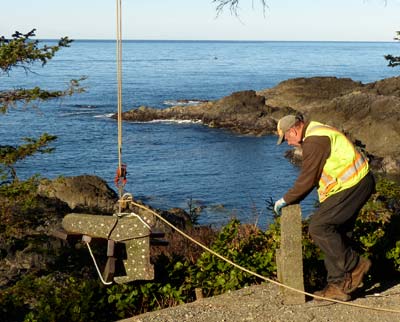 Donate
Please Donate by clicking "Donate Now" on this page or by mailing a cheque to: Wild Pacific Trail Society, Box 572, Ucluelet, BC V0R 3A0 Canada
The Wild Pacific Trail Society is a registered non-profit organization. Tax receipts issued via Canada Helps or by writen request for donations over $25.
A secure donation box is also provided at the Lighthouse, Brown's Beach and Ancient Cedars trailheads.
Thank you to all our generous funders: Please contact us if you wish to become a sponsor.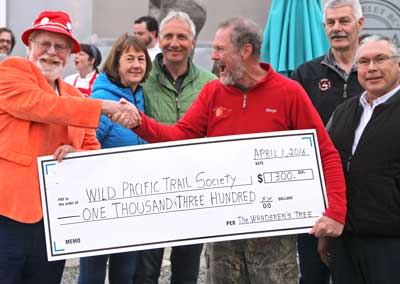 Donation from Raven Lady food cart, one of our sponsors.
Dreams DO come true!
Help us keep our staff employed
Donations have helped us to build this wonderful trail, now we are building educational programs that inspire a profound connection with Nature.
Most recently we need to replace donation box income with local and online donations to keep our staff employed. We also need support to replace damaged benches. All donations of any size are most welcome.
Contribute ONLINE or drop us a donation in the mail for a charitable receipt. Large donations for bench repair will be recognized on a special plaque.
Since its opening in 1999, 5 out of 7 phases have been completed with the trail stretching 9 of the proposed 14 kms. The goal is a trail from Amphitrite Lighthouse all the way to Pacific Rim National Park and beyond. Imagine a multi-day hiking trail along the coast! "It's my hope that the entire trail will be completed within a decade," said Oyster Jim. "This trail belongs to everyone."
---
Support educational programs or trail projects
Funds can also be targeted toward educational programs or new trail projects. Donations over $1,000 receive a plaque on our funders' sign at the main trailhead. Recently we were humbled by donors who gave generously after extreme storm damage decks and bridges on sections of trail. Thank you very much, we could not exist without your support.
Partner in a major project
Our Greenspace Campaign to purchase undeveloped land for expansion of trail and parkland
Creation of a Wild Pacific Trail Nature Centre
Support educational initiatives.
Business Sponsors and Supporters
Businesses listed here have supported trail society projects or network on our behalf.
Accommodation Links

Activity Links

Community & Tourism Supporters

Restaurant supporter
Society Mission
WPTS Motto: Inspiring through Nature
WPTS Vision: To inspire a personal connection with nature to create a wave of change for environmental stewardship.
WPTS Mission:
▪ To promote and protect a spectacular coastal trail network, where the temperate rainforest meets the ocean, that is accessible to everyone and showcases the natural and cultural treasures of the Ucluth Peninsula.
▪ To inspire people through sharing perspectives about the culture, history and nature of this area.